Connection Strings: Google Drive
To connect to a Google Drive, choose Google Drive.
Setting Google Drive access is similar to setting up an HTTP/S Connection String; a Bearer Token and Refresh Token is required.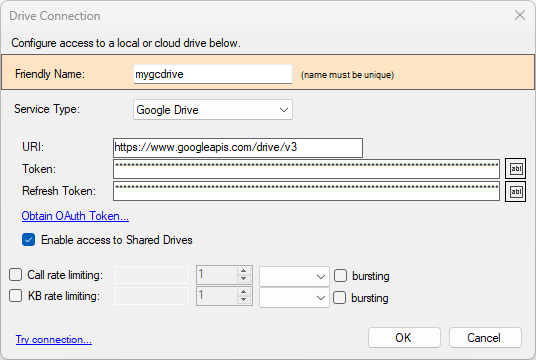 To configure Google Drive access, enter the Google Drive URI (normally: https://www.googleapis.com/drive/v3).

To generate your Bearer and Refresh Tokens, click on the Obtain OAuth Tokens... link. See the OAuth Tokens section for instructions.

To enable access to Shared Drives, check the corresponding box (note: this may slow down file searches).

Since this setting is similar to configuring an HTTP/S endpoint, you can enforce rate limiting. See the HTTP/S section for instructions on how to use this feature.