Connection Strings: ODBC
To connect to a database using another ODBC driver, choose Other (ODBC Driver). To use this connection, you must have first installed the desired 64-bit ODBC driver separately.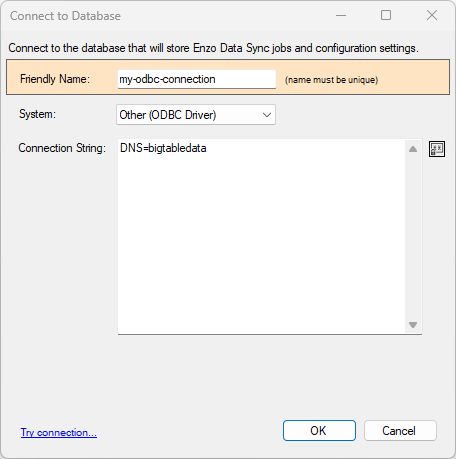 The connection string is displayed using * to hide secrets. You can toggle the display by clicking on the password button. When doing so, any secret included in the content of the ODBC Connection string will be visible.

Creating a separate DNS connection is preferred, so the actual connection string is not visible on this configuration screen. The screenshot below shows you how to use an existing DNS name created on the local machine.
The list of ODBC drivers provided are those found on the machine where DataZen Manager is installed. If the Sync Agent is running on another server, the Agent using the connection may, or may not, have the same ODBC drivers available. If the selected ODBC driver is not installed on the server where the Sync Agent is installed, the job will fail.

In addition, when using a DNS name as shown above, the same DNS name must also be created on the Sync Agent server, if the agent is running on a separate server.