Local Cache
When working with larger files, or when access speed matters most, it may be best to download the remote CSV file locally first using Enzo, and then query the file locally. There are two primary ways to do this:


Download the File: use Enzo to download a temporary file and query the local file
Create an Enzo snapshot: the snapshot can be refreshed periodically
NOTE: Creating a snapshot is a more advanced topic, and is not covered in this blog.
To download a temporary copy of the file, use the adapter's download handler directly. For example, call the DownloadFile handler on the FTP adapter; if you do not specify a file name, a temporary file will be created. Some adapters may have a different handler to perform the download operation.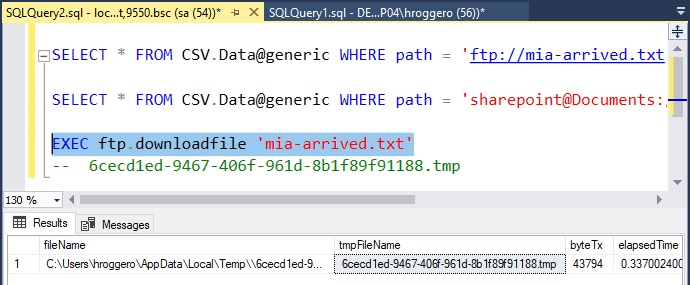 The operation returns the name of the file that was downloaded, along with its full path. Once the remote file has been downloaded locally, you can run the SELECT command on the temporary file directly. You do not need to provide the full path to this command; if not provided, it will assume that the file is located in the internal Enzo TEMP directory.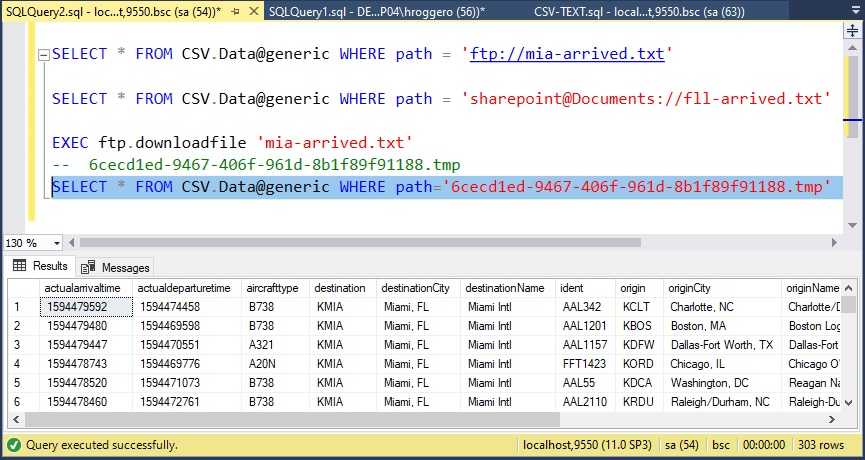 To delete a temporary file, use the DELETE SQL command using the Files adapter (the full path to the file is required for this call):
DELETE FROM Files.files WHERE
            fspec = 'C:\Users\hroggero\AppData\Local\Temp\ceea8f50-215a-4069-9afb-7207ee772e7c.tmp'