In the current technology landscape, data is everywhere, and getting harder to access. As organizations continue to leverage cloud computing, including SaaS and PaaS environments, data is locked away behind complex API services. In addition, data can come from multiple platforms and a variety of formats, including IoT systems, Data Lakes, NoSQL databases and flat files just to name a few.


One of the many challenges organizations face is the ability to collocate data from multiple source systems into a single repository so that useful information can be extracted. Considering many source systems are nowadays cloud platforms, such as SalesForce, SharePoint Online, Intacct, MailChimp and countless more, the ability to centralize distributed data sets is essential to enable businesses to derive Cost of Ownership, Cost of Goods Sold, Sales Cycle Times, Social Media analysis and more.


Data Virtualization
Data Virtualization is a technology that simplifies access to systems and APIs by abstracting usually complex layers, such as authentication, protocols, and challenge-response requests. In addition, most Data Virtualization platforms will hide lower-level service constraints and specific behaviors, such as paging logic and throttling for larger data sets.

For example, a company may want to join data from their HR system (Kenexa), online accounting platform (Intacct), customer service (SalesForce and SharePoint Online) and social media (Twitter) to provide management insight into customer behavior, assist with customer claims, and send customized alerts (Twilio) when necessary.
We created Enzo Data Sync to address this challenge. By leveraging Enzo Server's Data Virtualization technology, Enzo Data Sync can easily replicate and combine data from any source system into a single relational database (SQL Server, AWS RDS SQL Server, or Azure SQL Database), with ongoing data synchronization, so that organizations can focus on solving business problems.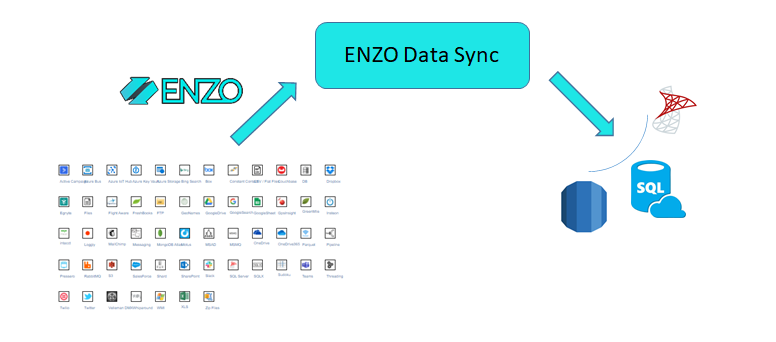 Because Enzo Data Sync reads data from sources systems through Enzo, any supported adapter can be used. In addition, using the Enzo SDK, it is possible to create additional adapters for custom platforms, such as internal APIs and Web Services.
Once the data has been read from the source system, changes are forwarded to a SQL Server database (or any SQL Server platform such as Azure SQL Database and AWS RDS) including a copy of the complete initial data set, if applicable. A job is automatically scheduled to keep the target database table synchronized with changes made on the source system, including Insert, Update and Delete operations.
Because of its simplicity and point-and-click configuration, Enzo Data Sync eliminates the need for more complex integration platforms, such as SSIS, MuleSoft, or Informatica; this in turn makes Enzo Data Sync much cheaper to operate and maintain, significantly reducing the Total Cost of Ownership of integration platforms, while still enabling advanced integration use cases as described further in this article.
Enzo Data Sync reduces the Total Cost of Ownership of traditional integration platforms by eliminating complexity and reducing maintenance.
Use Cases
The simplicity of Enzo Data Sync allows organizations to implement a number of use cases very rapidly, at a fraction of the cost of other solutions. This article focuses on two specific use cases that can be implemented rapidly with Enzo Data Sync: Data Mart / Data Warehouse Augmentation and Business Process Automation.
Data Mart / Data Warehouse
One of the key capabilities of Enzo Data Sync is its ability to replicate data from any source system into a SQL Server database with automatic data updates. Since the replication requires no coding, Enzo Data Sync is a plug-and-play technology that can help you create or augment existing data marts and data warehouses. With Enzo Data Sync, data replication from any SaaS/PaaS system or API, including social media platforms, online accounting platforms or CRM systems, can be performed in minutes.
Since Data Sync replicates data into SQL Server, Azure SQL Database or AWS RDS, existing reporting and enterprise portals can access information easily, such as PowerBI, Tableau and Cognos. Source systems include:
Any SaaS platform such as SalesForce, Intacct, SharePoint Online
NoSQL databases such as Couchbase and Azure CosmosDB
Social media and communication sources such as Twitter and Slack
Marketing platforms including MailChimp and Constant Contact
Enterprise platforms including MSAD, Dropbox, Excel files, Oracle/MySQL
Business Process Automation
Business Process Automation (BPA) helps organizations simplify and improve business processes that normally require manual tasks, such as automatic claims routing/processing, hiring/firing, job change automation, and hiring automation to name a few. BPA also includes related fields such as Robotic Process Automation for higher productivity.

Enzo Data Sync helps with BPA initiatives by decoupling the automation process from the actual source systems, making it much easier and faster to implement. Since automation projects require integration platforms, the ability to build a complete solution using SQL-based programming logic (SQL Automation) dramatically simplifies the build, test and deploy lifecycle. Writing SQL automation logic cuts down programming complexity and becomes very simple to change based on evolving business requirements.
Using this implementation pattern, organizations can implement an effective event-driven integration solution, similar to an Enterprise Bus architecture. When changes are detected in source systems, the SQL Automation code can trigger a series of downstream changes using simple logic. In addition, since the logic is written using the SQL language, virtually anyone in your IT organization can implement and/or maintain the code.
Conclusion
This article introduces you to Enzo Data Sync, a replication technology that leverages Enzo's Data Virtualization platform, allowing companies to copy and update data from virtually any source system, including cloud platforms, into a SQL Server database. This allows organizations to implement data marts and augment existing data warehouses, simplify business process automation projects, and reduce the overall Total Cost of Ownership by eliminating complex integration platforms.