ENZO SERVER vs. ODBC DRIVERS
ENZO is not an ODBC driver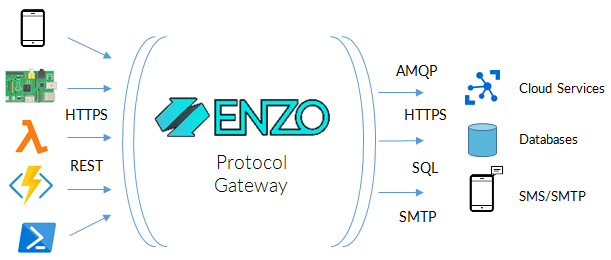 ENZO is a Server platform, running as a service, just like SQL Server for example. While Enzo provides data virtualization of APIs, ENZO offers significant additional capabilities, as described below.

As a result Enzo allows you to access data from anywhere such as thin clients and SaaS platforms. For example you can query Tweets using Enzo from PowerBI and other hosted platforms that do not allow hosting ODBC drivers.
The following table provides a summary of capabilities by Enzo and ODBC drivers.
| Capability | Description | Enzo | ODBC Drivers |
| --- | --- | --- | --- |
| Data Virtualization | Virtualize APIs and services so that they can be accessed by power users. | | |
| Read/Write Access | Provide both read and write access to APIs and services, including hosted PaaS platforms. | | |
| HTTP/REST Development | Expose API endpoints as both SQL and REST commands and tables. | | |
| Edge Caching | Create an Edge Cache of remote resources (such as a SharePoint list, or a file on an FTP site) using Enzo to improve performance and reduce the impact of network downtime. | | |
| Data Governance & API ACL | Implement adapters and methods level permissions for fine-grained access control. Keep an access log of all operations performed through Enzo. | | |
| Configuration Secrets Vault | Centralize configuration settings in a secure vault away from developers. | | |
| Asynchronous Features | Execute SQL and REST calls synchronously or asynchronously as needed, and schedule calls for later execution. | | |