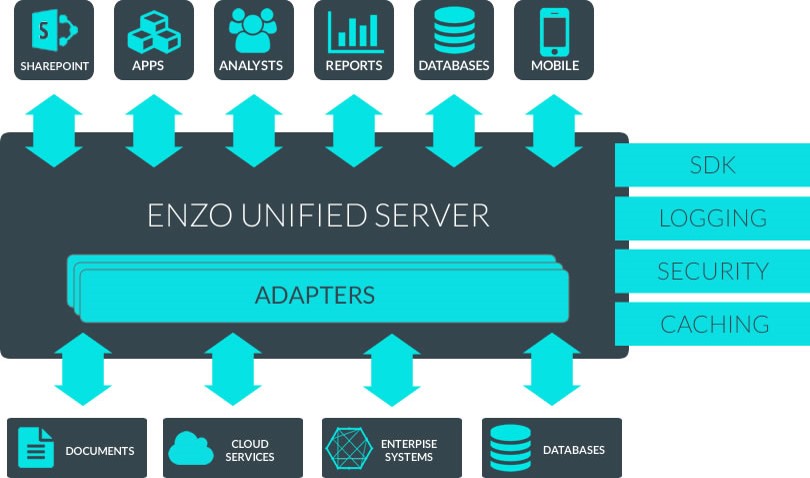 Compress development, data integration and Business Process Automation project timelines, improve data quality, and increase operational efficiency by solving some of the most complex real-time data consumption challenges with the Enzo Unified platform.
Develop quickly on any platform or device
Use SQL to code Business Process Automation
Use REST to build your API access layers 50% faster
Implement strong Data Governance for your hosted services
Centralize configuration settings securely and use Proxy service accounts
Extensible with our SDK
Advanced features such as Edge Caching and Enterprise Views
Enterprise Views
With Enzo Unified, organizations can create enterprise data views on top of existing data sources, and make them available to internal applications, business users, and even business partners if desired.
Real-Time
Enzo Unified removes the learning curve associated with APIs, and standardizes the data sources by presenting information in a uniform way regardless of the source of the data. In addition, clients use the same authentication mechanism regardless of the data source, further simplifying data integration.
Edge Caching
In some cases, data sources are slow to access, or temporarily unavailable. Edge caching provides a buffer mechanism for systems that may not be best suited for real-time access, or when a form of local indexing makes sense.
Mobile and SQL
The ability to access data both from database-friendly systems and mobile systems is becoming more important. Enzo Unified automatically exposes the underlying resources, regardless of their native storage format, as both REST and SQL data sources.
Secure
Access data sources from the cloud or within the enterprise easily by centralizing access control and auditing data access.
SDK
Write your own adapters using the .NET framework easily, and expose them as data sources through REST and SQL.
---