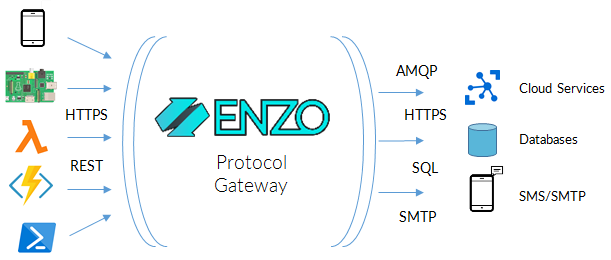 Enzo Online is a cloud-based rapid development service that allows developers to quickly build solutions for IoT, Mobile, and web development. Enzo Online removes SDKs from many complex systems, including SharePoint and SalesForce, and allows developers to build programs using simple HTTP/S REST requests.
Develop quickly on any platform or device
Use REST to build your API access layers 50% faster
Centralize configuration settings securely and use Proxy service accounts
Simple access to protocols & languages, cloud services, SMS/SMTP and databases
Designed by data expert and author Herve Roggero in response to actual issues he was experiencing as a developer, Enzo Online's unique HTTP/S service fulfills the needs of today's fast-paced, ever-evolving developer by coordinating access to multiple cloud and data systems in real time without the need to use complex SDKs.

Enzo Online simplifies development by standardizing various online services as a single virtual HTTPS endpoint, regardless of the services' original protocol, authentication mechanism, and specific vernacular.

Making HTTPS requests is largely similar no matter which development platform you use, making it very easy to consume online services from any platform, including IoT devices, Mobile phones, serverless services, and even scripting environments such as PowerShell.
---